ABOUT
NOLA_CODE is a non-profit organization dedicated to increasing access to Computer Science education for students in grades K-8.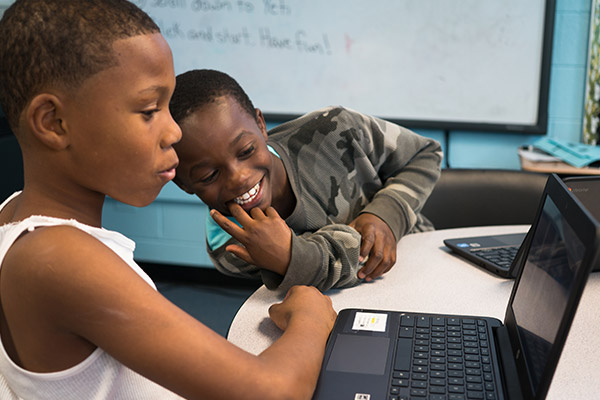 We're a collaborative of local educators and tech professionals who provide age-appropriate instruction in coding, computer engineering, circuitry, rudimentary robotics and more to children across New Orleans. We make Computer Science education available in the classroom, at home, and at community centers to provide early exposure to computer science that children would otherwise lack.
Dedicated Team
We have an amazing team of certified & trained teachers who are dedicated to improving the lives of our students.
Élan Jones
Élan Jones has been the fearless leader of Nola Code. She studied at Cornell University and is passionate about community organizing.
Rebekah Smith-Brocks
Rebekah has been teaching for the last 6 years and has taught over 500 students. A New Orleans native, she enjoys playing violin and viola, blogging, discussing news trends, and practicing Mandarin Chinese.
Jazmin Jones
Jazmin received her BA in Elementary Education/Spanish, and comes to NOLA_Code from South Korea where she taught English as a Foreign Language. Although Jazmin brings nearly a decade of teaching experience to NOLA_CODE, Computer Science is a new field for her and she is looking forward to learning right along with the students.
Olin Gallet
Olin Gallet enjoys sharing the world of computer science and electronics with people. His latest hobby involves finding discarded electronics and reviving them for new uses.
Nick Teal
Nick came to New Orleans as a student at Tulane University four years ago, where he started studying computer science. In the last four years, he started working as a tutor and a teaching assistant in various schools around New Orleans, growing his skills as a classroom leader. Between work and class, he developed a love for coffee, jazz, and Vietnamese po-boys. Between his interest in computer science and his classroom experience, he has found home at NOLA CODE.
Albert Smith
Albert is a lifelong resident of Louisiana and a graduate of Washington Parish schools. A successful business owner, he has mentored many people in starting their own businesses and using technology as a resource. He has been using the iPad to promote literacy and technology literacy for the illiterate. His hobbies include: traveling, board games, and meeting new people. He is a father of three grown children, has been married 42 years, and has two grandchildren.
Alie Eiseman
Alie Eiseman is a programmer, engineer, teacher, juggler, gardener, artist and bike rider who is passionate about grassroots programs. Her personal projects include digitizing a simple math game, and researching computer generated art. She's passionate about molding young minds and building new things. She does IT help for boh brothers construction and some contract web development work. She's had two years of experience doing front end development with IBM and is happy when people come to her with questions. More information at aliecat.org